One of the most popular casinos come Christmas season is of course Video Slots. The reason for this is because they are one of the rare online casinos that offer casino games from multiple different software providers.
For example – some casinos such as Luxury Casino use the Microgaming Casino Software. While this is top software it limits the games they have available. That's why Video Slots is so great because they have a ton of Christmas games from all over.
All new signups to Video Slots also get 20 free spins purely for registering, no deposit needed. The spins unfortunately are not for a Christmas game – but they are for Rook's Revenge, which is currently their #1 most popular slot machine. It's a really sweet deal with low wagering requirements.
However they ARE offering a really sweet deal for all new depositors. You get a 100% match bonus on your first deposit up to $100 – so deposit $100 and you immediately get $200.
On top of that as a christmas special you also get $10 free on the first deposit – no wagering requirements needed. So $100 gets you $210 which is a really sick deal. Or if you deposit just $10 you'd end up with $30.
Okay – so Christmas games!
Video Slots has a wide variety of Christmas slot machines. Some of them include Santas Wild Ride, Jingle Bells, Ho Ho Ho, Deck the Halls, Scrooge and Gift Rap.
We've got reviews for all of them up here at ChristmasCasino.net.
Ho Ho Ho is probably one of our favourites. Check it out below: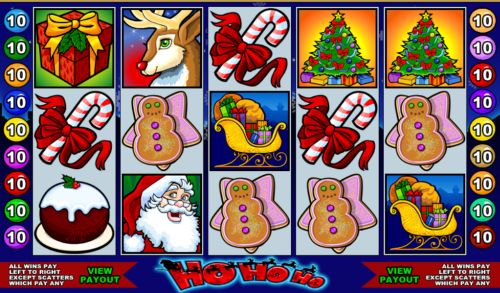 As you can see – it's got a real cartoony look to it. If you have kids and they like to watch slots, then this is a good one to play while they're crowded around the computer watching. It's a real fun one with a bunch of additional options like 20 free spins and a progressive jackpot.
This one is from Microgaming so that's the benefit to being able to sign up at Video Slots.
So go claim your free cash now, and just register to get those 20 free spins at Video Slots.
Christmas Casino » Christmas Casino Promotions »