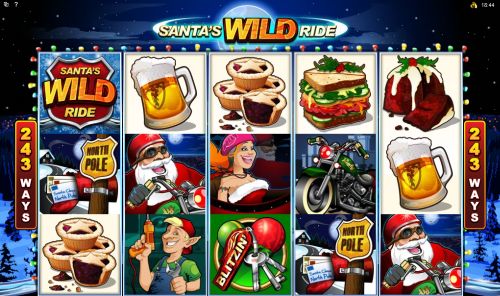 Santa's Wild Ride is a funny Christmas themed slot is Santa was on Sons of Anarchy. Santa Claus rides around on a chopper? You have to see this to believe it and you can by heading to Luxury Casino
Santa's Wild Ride is, well, Wild. It is a completely fresh take on a Christmas Themed Video Slot game. It is a 5 Reel, 243 way game.
Betting Limits for Santa's Wild Ride are: $0.01, $0.02 and $0.05. Players can choose to bet 1 coin or up to 5 coins per spin. The minimum bet you can make while playing this game is $0.03 and the maximum bet is $7.50. These limits are good for the casual player thanks to the maximum being a very affordable amount.
Santa's Wild Ride is just a really fun game to play. The gameplay is fantastic with great looking graphics and sound effects. Smooth to play an also runs very fast both huge pluses for slots. All of these things are due to the fact that Santa Wild Wide was designed using Microgaming Software who are known for making great video slots
The Symbols for Santa's Wild Ride are a weird mix of random Christmas thing; Santa's Wild Ride, Keys, Gifts, Santa, Holly, Elves, Beer, Motorcycles, Cookies, A sandwich just a bunch of crazy and funny symbols.
Wild Features, Free Spins, Autoplay and the ability to manually stop the reels are just some of the cool feature players can use while playing this game.
Play Santa's Wild Ride Free
To play this interesting take on a Christmas themed slot you will need to head to Luxury Casino and download the free casino which is easy to do and also a very fast download.
After the download is complete you will need to register and account at Luxury Casino. After you register you are ready to find Santa's Wild Ride.
Before you get to playing you should be sure to take advantage of the many bonuses and promotions that Luxury Casino will give you just for signing up. Its completely free money so why not accept it from them.
First select the "Video Slots" option from the main screen. Once in the Video Slots Section you can find this game in one of two ways. You can select the 20+ lines option and then scroll until you find the game or you can simply search for it using the search bar located in the top right corner of the screen
About Santa's Wild Ride
You will probably never find a Christmas Slot game like this one anywhere else. Luxury Casino has lots of crazy slots games but this one has got to one of the more zany they have and it's great.
Not very big betting limits here to but still enough to win some nice money and this Slot is best suited for the casual gamer but big spenders will like it as well just for the gameplay alone.
$0.01, $0.02 and $0.05 are the limits for a Minimum bet of $0.03 and the Maximum is $7.50.
The Santa's Wild Ride Symbol is the highest paying symbol in the game. If you manage to hit 5 of them on a reel then you will win an 800 coin jackpot. The Symbol also acts as a wild symbol.
The Keys symbols acts as the Scatter symbol for this game. Landing 3 or more anywhere on the reels will multiply your original bet by 5, 10 or 50. Also by landing 3 or more you will be giving 25 free spins and a special feature of your choice. You can choose from the Stacked Wild Feature which will appear stacked on all 5 reels. The second choice is the Expanding Wild Feature which will create a trail of wild symbols as the reels spin. During the free spins you can win huge up to 1,900,000 coins. If my math is correct that is…. a lot of coins.
Auto play is , as always, a key feature that allows you to sit back and watch as the wheel spins by itself for a predetermined amount of spins or winnings. And for more control of the game they allow you to manually stop the reels from spinning
If the Christmas Slot Santa's Wild Ride sounds like something you would like to try, and believe me this game is worth at the very least a single play through, then head to Luxury Casino and buckle your seatbelt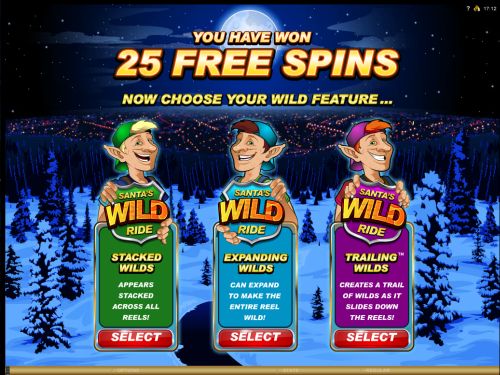 Christmas time is a tough year for Santa Claus and the last thing he needs is a wild ride. But that's exactly what he is going to get in the new Christmas themed slot machine available at Video Slots.
Santa's Wild Ride is – well, quite the wild slot machine. It's one of those slot machines that hook you in from the very beginning. Suddenly you're spinning and spinning and just completely in live with it.
This is a great game brought to us by Micrograming, the leading casino software provider. Probably our favourite feature of it is the free spins feature. Here have a look:
Isn't that just the coolest thing? When you win free spins, you don't just get the spins but you get the choice. The choices are:
Stacked Wild: The wild symbols will appear stacked across all reels.
Expanding WIld: The wild symbols can expand which make the entire reel wild!
Trailing WIlds: Choose this option and as the symbol drops down the reels it leaves a trail.
This seriously is one of the best christmas slots out there and is so cool to look at graphically. Check it out today at Video Slots.
Play Santa's Wild Ride for Free
To play Santa's Wild Ride for free you don't need to download anything.
Simply click this link to visit Video Slots. Once you're there, choose Santa's Wild Ride. You don't even have to register an account – just click on it and you'll be able to play it for free.
I would recommend registering though because they have an awesome bonus at Video Slots that is well worth taking advantage of.
About Santa's Wild Ride
My favourite thing about Santas Wild Ride as mentioned is the wild symbols and how they push that. That's really neat and makes it that much more exciting winning the free spins – being able to dictate how the wild symbols work.
For those wondering Santa actually drives a motorbike in this game, and it has 243 separate methods of winning. It's also a 5 reel slot and a lot of development has gone into it.
Also when you are playing via free spins, all wins are doubled which is really cool. There's also a random multiplier symbol as well and when we play tested the game we found that symbol actually came up a lot which was nice. I mean not every spin – but enough that we could cash in quite easily.
The multiplier will activate and give you 2x, 3x and 4x.
Santas Wild Ride is one of the most popular Christmas slots here and it's easy to see why. Actually when I was playing it to do this Santa's Wild Ride review my kids came over and watched and couldn't stop watching – they were just hooked by it and found it really neat.
So hey – a family friendly slot! There's a good way to spend Christmas eve!
Alright go on over to Video Slots and try this bad boy out. Enjoy the ride!
Christmas Casino » Christmas Slots »