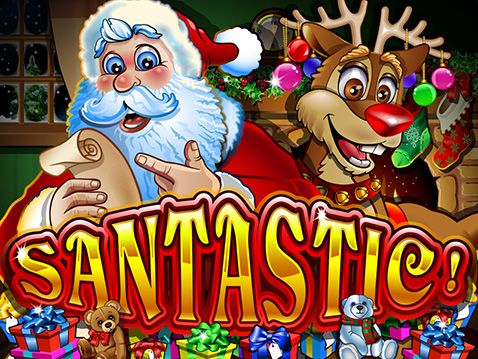 Santastic is a very popular Christmas Slot found at 888 Casino. The name of the slot is a combination of "Santa" and "Fantastic" – in other words, if you're looking for a fantastic santa christmas slot, this is the one for you!
Offering 5 reels and 15 paylines, and symbols like a scatter symbol and a wild symbol – Santastic also has a fixed jackpot aount of 4000 coins. This popular video slot features a bonus game, 1 bet per line but with a maximum amount bet of $10, and a low amount bet of $0.05 – that's per line. It's perfect for the smaller slots player, all the way up to the medium one.
There is no progressive jackpot available at Santastic.
Play Santastic Free
To play Santastic free, you can head on right over to 888 Casino.
This casino offers both a downloadable version of their casino, as well as a browser based version. FYI – the latter is the best option we feel for this.
A lot of online casinos tend to cater to their downloadable version more, but years ago 888 Casino saw the future and realized that online is the way to go – so that is exactly what they have done!
If you want to play for real money they have that option too – but they have a fully functional free online casino for you to try Santastic out. You can play with play money and it's usually the best thing to do – really test the slot out, test those payouts out and see how you like it.
About Santastic
So symbol wise, there are a lot of christmas related symbols. It's mainly christmas ornaments, but you also have christmas stockings and candy canes, presents and gingerbread men.
You can bet from 1 line to 15 lines with a minimum bet of $0.05 and a maximum bet of $10 per line. That means you can bet a total of $150 per spin if you really want to – that is the ultimate maximum bet.
The interface is very easy to use. It's simple and laid out well and the background actually has a nice christmas theme to it. A lot of the christmas slots we see only have the symbols – so it was actually really cool to see that theme to it. It really adds to it.
So if you are looking to play a good Christmas slot, be sure to check out 888 Casino. As far as we know that is the only Christmas slot currently available there – but based on popularity hopefully it will get more popular and there'll be more Xmas slots added.
A side note that 888 Casino once ran a cool charity event based on this. As you played the game, your losses, or at least a percentage of them would go to various charities. This was held back in 2011. They are great for supporting charities – 8% of the profits would go to them for most slots – but even more with Santastic.
Christmas Casino » Christmas Slots »