Last time I did a christmas scratch card, we actually had a winner. I bought a $3 Holly Jolly Tripler card and won $5 from it. Love it.
So we're back and hoping for more luck with this next christmas scratch card. This one is called the Jack Frost Doubler and here is what it looks like: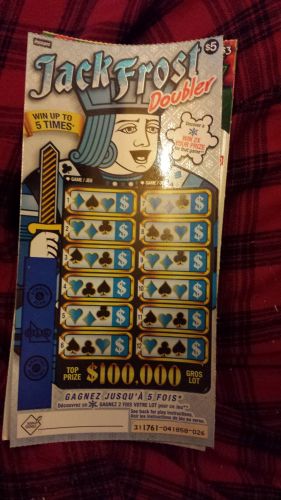 So it's a fairly straight forward one. You have 12 slots to scratch and you need to match up 3 symbosl and you win the prize. The prize is hidden behind the dollar sign. So of course the funnest thing to do is to scratch the dollar sign first, then work your way up which is what I always do.
Here it is with the potential prizes: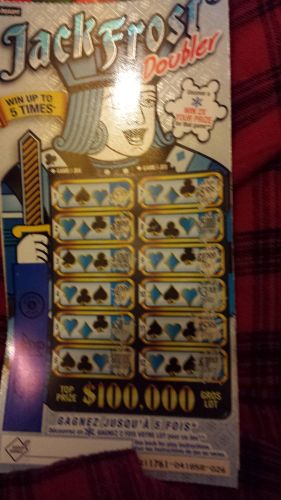 Now as it's a Christmas thing there's a few specials. If a snowflake shows up on any of the lines you automatically DOUBLE that prize – hence the doubler rule. And you have the chance to win up to 5 times on the same card. I always laugh at that thinking of winning $100,000 and $5.
So we'll scratch a few at a time, starting from the bottom up. We have from the top left down $5, $20, $100, $10, $50 and $100,000 then on the right side $8, $25,000, $10, $3, $5, and $20.
Let's do it: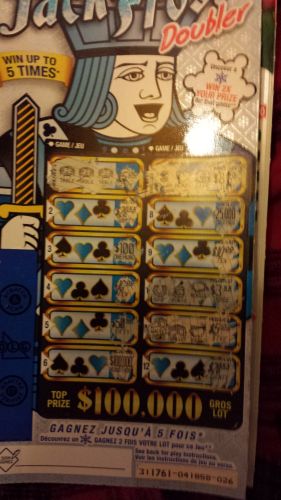 Wow – what a start! On our 2nd scratch we get 3 tables in the top left one to get $5, meaning the card has paid for itself. Nice start. Sadly with wallets and banks and tables and necklaces it looks like there isn't a Christmas theme to this scratch card. That sucks – if you're going to design a special Christmas themed card, the least you could do is add some bloody Christmas icons to it!
Let us scratch the next batch: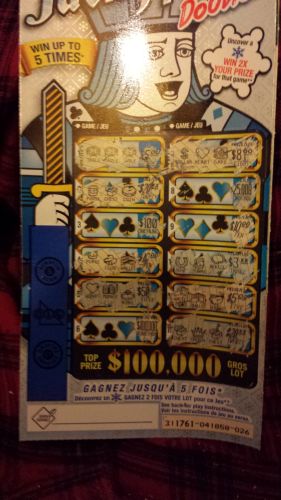 Well – nothing there. We didn't even come close which was annoying. Come on game – tease me just a little bit please!
So on the last batch – well we didn't win anything on the $100 or $50. $25,000 and $100,000 is left. Let's see how we do with th ose.
$25,000 first.
Coin.
Coin.
Nugget.
Aw man.
Alright, $100,000.
First symbol is a club!
Second symbol a club!
And the third symbol, for $100,000 is……
A club!!!!!!
Haha no it wasn't. It was a nugget. Man can you imagine blogging this and actually winning $100k? That would've been sick.
Oh well here is the final Jack Frost Doubler card: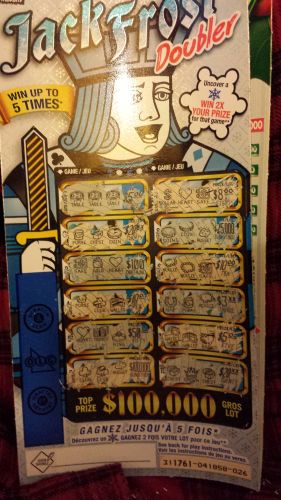 We didn't get a snowflake unfortunately but oh well. I buy these cards for entertainment purposes and I'll take getting my money back – it was fun to sit there for a few minutes with 2 matching symbols on the $100k line and just dream.
Christmas Casino » Christmas Casino Blog »