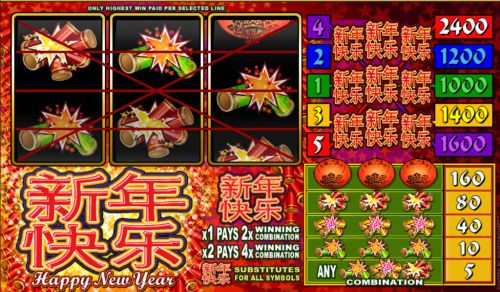 Happy New Year is a Chinese New Year Style Classic 3 Reel ,5 line slot. You can play Happy New Year Slots at Luxury Casino
Although this isn't a Christmas Themed Slot, it is a Holiday themed Slot so we figured that it should be covered in our list of Slots for this time of year.
This is a great choice for the Slot player you may feel a bit overwhelmed when playing other slots with 5 Reels and 20 plus lines. This game keeps it simple with only 3 Reels and 5 paylines. This game runs and looks great thanks to being developed using the Slot favourite software company Microgaming. The symbols feature a multi-colored layout and there are some cool sound effects that play when you win.
There are some very good betting limits used for Happy New Year; $1, $2, $5, $10, $20 and $25 are the options. Players also are allowed to bet anywhere from 1 coin or up to 5 coins per line making the minimum bet $1.00 and the maximum bet $125.00. These are great limit for the casual player up to high rollers and also everyone in between.
Symbols used in Happy New Year: Happy New Year, Red Firecracker, yellow Firecracker, Green Firecracker and a Lantern
A jackpot can be won and an autoplay feature is also available.
Play Happy New Year Free
You play this gorgeous Chinese New Year themed slot by visiting Luxury Casino.
Once you arrive at Luxury Casino you will first have to do two things. The first step you have to do is download the Casino, which is a quick and easy download. The second is you will have to register at Luxury Casino which is free and fast.
Just for registering at Luxury Casino they will give you a free $1000 on your first 5 deposits just for signing up with them. That's an incredible sign up bonus!
Now that you have completed those two steps you are now ready to play Happy New Year. From the main game screen you will need to click on the "Classic Slots" game list. From there you will be taken to a list of all the classic slots games available to play.
You will need to choose the tab titled" Regular" along the top of the game list and scroll until you see the Happy New Year Logo which is Happy New Year written in Chinese. Or to find it faster you can just type in the search bar located in the top right of the game page.
About Happy New Year
Luxury Casino is the best place to play this nice and simple game. Although it is an easy slot it doesn't lack any of the enjoyment to make this a quality slots experience.
Some very valuable betting limits for Happy New Year and they will appeal to all Slot players. Users can wager; $1, $2, $5, $10, $20 and $25 and can also bet 1-5 coins per line so the min and max bets for this game are $1.00-$125.00.
The symbol you are looking to land for the highest payout is the Happy New Year symbol. If you are able to land 3 of the on line 5 you will receive a 2400 coin jackpot. If you land 3 on other lines you will still receive s nice payout just not as much as line 5. You will have to do the maximum bet to be eligible to win the jackpot.
A very detailed autoplay feature is there for players to use. By choosing the "Expert" button you will be able to set how many spins you would like to auto play. You can also predetermine an amount you would like to win before the auto play stops and how much time in between spins. Players can stop the auto play from spinning at any time.
Overall this is a great slot game and even though it's not a Christmas slot it defiantly goes with the theme of Christmas. Good Limits and great gameplay make this must play game. Head to Luxury Casino and give this a try.
Christmas Casino » Christmas Slots »