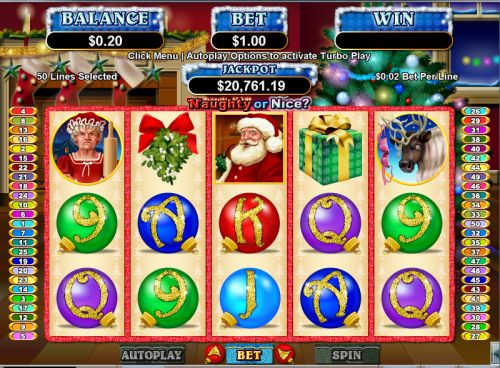 Naughty or Nice is a fun and funny Christmas Themed video slot game available to play at Classy Coin Casino
Naughty Or Nice is a 5 reel, 50 line Christmas themed video slot developed using the critically acclaimed Realtime Gaming software.
This game looks and sounds fantastic and runs smooth and flawlessly which are very important points when it comes to a video slots game. It's also very easy to pick up and is a fun experience to keep you playing. The game also has a progressive jackpot that players can win.
Naughty or Nice features 2 wild symbols in the form a Naughty Girl and a Nice Girl. Some of the other symbols including in the game are: Santa Claus, Mrs. Claus, Reindeer, Mistletoe, Gift and symbols in the form of Christmas Ornaments.
Players can manually stop the reels while they are spinning giving the user more control. You can also take advantage of the Auto Play feature which is a cool feature when playing video slots.
Naughty Or Nice has a great set of betting limits available. Players can wager; $0.50, $1, $1.50, $2, $2.50, $3, $3.50, $4, $4.50, $5, $12.50, $25, $50, $125 and $250. All 50 lines must be played at all times while playing this game.
Play Naughty or Nice for Free
You can play Naughty or Nice absolutely free by heading to Classy Coin Casino. You first step is to decide if you want to play using Classy Coin Casino's browser based Casino or to play using the downloaded version. We recommend downloading the Casino as its quick and free and whenever you want to visit the Casino it's only a click on your desktop away.
Once you have downloaded the casino you will then need to register, which is also quick, free and easy. Also Classy Coin will give you a free $25.00 no deposit bonus just for signing up so be sure to claim your bonus as soon as you are finished registering.
Once you are all signed up you will now need to find Naughty or Nice Video Slot. You will see a menu option titled "Slots" above the games list. Choose that and then you will see that the available slots at Classy Coin are broken down into three categories; 3 Reel, 5 Reel and Bonus. Naughty or Nice is a 5 Reel Slot game so choose 5 Reel and scroll down through the alphabetically sorted games list until you find the game.
About Naughty or Nice
This is a great Christmas slot game for many reasons. Not only does it look and sound amazing but it runs so smoothly. In addition to the way it plays the betting limits are top shelf in terms of slots. Naughty or Nice allows the player to wager any of the following amounts; $0.50, $1, $1.50, $2, $2.50, $3, $3.50, $4, $4.50, $5, $12.50, $25, $50, $125 and $250. The player must bet on all 50 lines at all times while playing this game.
There is a progressive jackpot available to be won while playing Naughty or Nice. To win the jackpot you will need to land 5 Nice Girl symbols on a payline during a paid spin (not while using one of the free spins you will win in some of the bonus games). You can also win the progressive jackpot by landing 5 bonus symbols during your free spins.
If you land 5 Santa symbols during the game then you will be awarded 10,000 coins. As for bonus games there are a few. You will need to land 3 or more Naughty or Nice Girl symbols to trigger a bonus game. In the bonus game you will be awarded 10 Free Spins. You then will choose the Naughty Girl or Nice girl to be your Bonus symbol and if at any time during those free spins your prize will be doubled.
This game also features an Auto Play Button, Manual Stop feature, Turbo Play and much, much more. All of these features and bonuses only add to the Slots experience and this game really stands out amongst the Christmas Themed Video Slots out there to pay.
There are plenty of combinations in this game that will greatly increase your winnings so it is worth a try. And better yet, give this game a try using the free money that Classy Coin has giving you simply for signing up.
So if you are looking for a Christmas Themed Slot game to play then by all means head to Luxury Casino and give it a shot. I have a feeling you will not be disappointed
Christmas Casino » Christmas Slots »