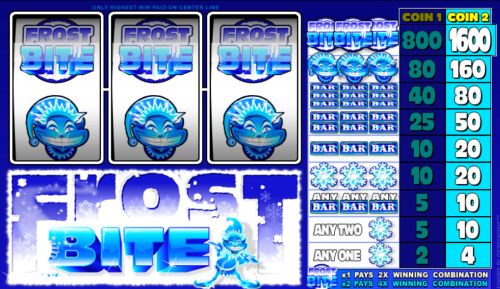 Frost Bite is a classic 3 reel, 1 line slot machine that you can play at Luxury Casino
Although this isn't exactly a Christmas themed slot, it is indeed a winter themed slot and nothing screams Christmas more than a cold winter game.
The game has a chilly color pattern of white and blue. And you can hear the wind blowing at times in the background.
The symbols for the Frost Bite Slot are; Frost Bite Symbol, a Frostie symbol, a snowflake symbol and three bar symbols (single, double and triple)
The Betting limits for Frost Bite are; $0.25, $0.50, $1, $2, $5, $10, $20 and $25. Users can also bet 1-2 coins per line so the minimum bet can be as little as a quarter or as much as $50.00 per spin. These are impressive limits for a 1 Reel game.
This is a fun and straight forward game that's a throwback to the Slot Machines of the past with its 3 Reel, 1 line approach.
Play Frost Bite
If you would like to play Frost Bite for free, then dress warm and head to Luxury Casino. Your first step is to download the casino which is a fast and easy process.
Once Luxury Casino has completed downloading then your next step is to register an account. One great perk of becoming a member of this Casino is the crazy amount of promotions and bonuses that they give their players. And with any Online Casino they give players more gifts around Christmas. Make sure to spend at least a couple of minutes having a look around the available bonuses you can take advantage of.
Once you have finished the registration process you are ready to find this chilly game. You will first need to find a select the "Classic Slots" from the main screen of the games page at Luxury Casino.
Once you have located it, it's not hard to find, you will be taken to all of the Classic Slots available at this Casino. You will now choose the Regular tab and scroll through that list until you find the Alphabetically listed Frost Bite. Or you can just type Frost Bite into the search bar.
About Frost Bite
A nice change of pace when it comes to slots. Instead of a bunch of lines and symbols this game keeps it simple with only a handful of symbols, one line a 3 reels.
Decent betting limits for Frost Bite. Players can wager: $0.25, $0.50, $1, $2, $5, $10, $20 and $25. You can also bet up to 2 coins per line for a max bet of $50.00. Users can also choose to quickly bet the Max bet on a spin by just selecting the "Bet Max" button
The Frost Bite Symbol is the highest paying symbol in this game. If you manage to land 3 of these symbols while playing the maximum bet you will win a jackpot of 1600 coins. The Frost Bit symbol is also a wild symbol and also will multiply your winnings if you land only 1 or 2 of them.
There is also a detailed Auto play mode you can use. If you would like to use the auto play feature you will need to select the "Expert" button. From there you can decide how many spins you would like to have the game run through for you. You can also choose how much time you want in between the spins, how much you want your money to increase or decrease before stopping, to stop if a jackpot has been won, just an incredibly in depth auto play mode.
If you feel like getting back to the basics then be sure to grab a hot chocolate and head to Luxury Casino to give Frost Bite a try.
Christmas Casino » Christmas Slots »