Obviously by running this site you know that I love Christmas themed casino games. Online, it seems all there is is Christmas Slots. That's why I like the scratch cards my local store sells – because come Christmas time, many of them switch to a Christmas theme.
So as an excuse to buy them I'm going to buy some and then blog about them, and you can join me this Christmas season as I take you along for the journey and we see if I can actually win some money on these christmas scratch cards!
Quick note – if you're looking to play a Christmas scratch card game online, Santa Scratch is your best option.
Okay so the first scratch card up is called Holly Jolly Triple and costs $3. Here's how it looks: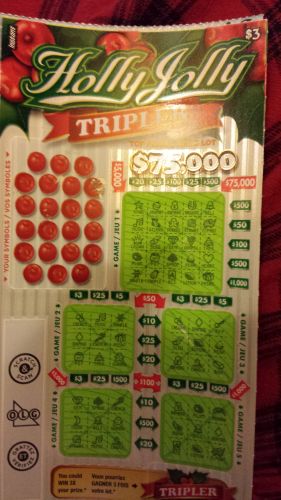 You scratch the symbols to the left. Then you scratch them on the game boards. If you get a row – horizontally, vertically, or diagonally, then you win that prize.
The "Triple" part comes in with the Tripler option below – scratch that and if we get the word "Triple" then we win TRIPLE the prize that we win. Sadly if we win $75,000 I doubt we'll be getting that beautiful T-word.
On with the scratching: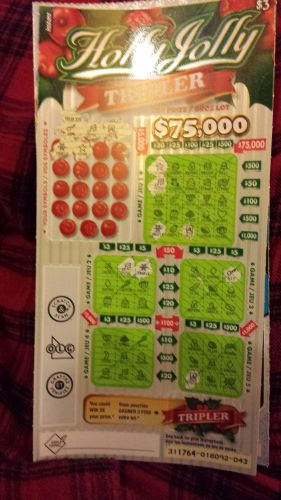 So we got the Key, Music, Ace, Snowflake and Star. Already we're 3 out of 5 for $20 in that top Gameboard, and we only need the Cherry for $10 on Game 2. Quite a nice start – especially on that main board. Let's scratch some more and see what happens: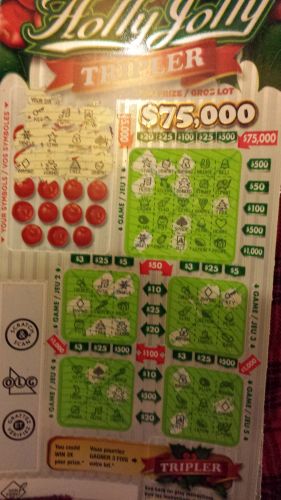 So this time we got the money bag, spade, diamond, gingerbread man, christmas tree and ornament. I LOVE how christmas themed this card is BTW – such a lot of fun.
No winners yet unfortunately – but Game 2 board is looking good with just the pot or a present needed for a win.
Let's move onto the next ones: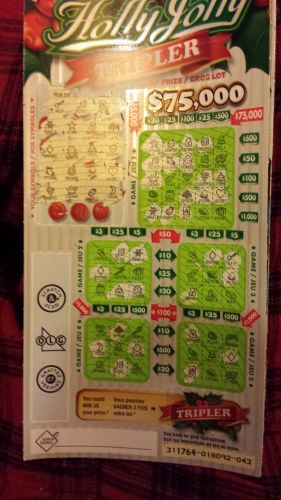 So I've left 3 to scratch at the very end. We're doing great – on Game 1, a Bell is needed for $500, a plum for $20. The Gem and present for $5,000 or the Lemon and present for $1,000. Sadly $75,000 seems out of our reach.
Game 2 we are still very close, and Game 3 as well. The other ones – not so much.
We'll scratch them one at a time – 3 symbols left.
Symbol #1: Rainbow.
We don't have that on Game 1. It's only on Game 4. It helps us as it's a corner piece but nothing too great.
Symbol #2: Present.
Okay there we go! So the present unlocks a winner on Game 2 of $5. This card cost $3 so we're up $2. You just can't beat that. Still one left to scratch. Let's do it….
Symbol #3: Strawberry.
Unfortunately, the strawberry does nothing for us.
Here's the full card: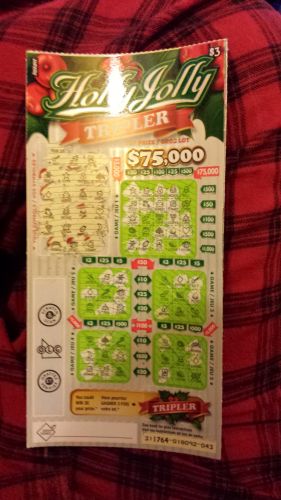 And here's the best part. It's not over yet. If we scratch "Tripler" and get the word Triple we win $15. Let's do it….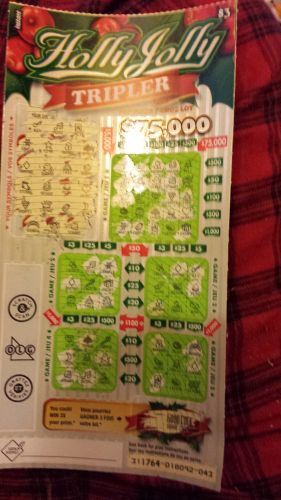 Oh well.
Hope you enjoyed Holly Jolly Tripler. Stay tuned to the site for more scratch card blogs!
Christmas Casino » Christmas Casino Blog »