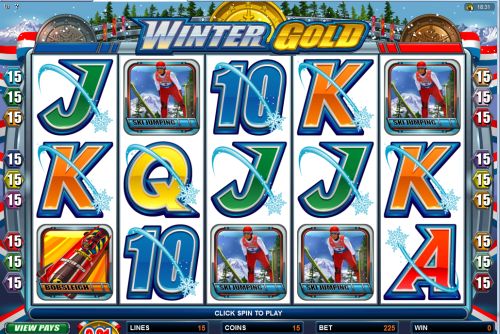 Winter Gold is a Winter Olympics themed slot that focus on a bobsleigh team and is available to play at Luxury Casino
Winter Gold is 5 Reel, 15 payline video slot which has great graphics and nice sound effects. Although this isn't a Holiday themed game it does focus on something that happens just after the holidays end so why not give it a try
Not only is this a suitable thanks to the Winter theme but in the near future the Winter Olympics begin un Sochi, Russia. A fast and great looking game that uses Microgaming Software who specializes in making great slots games and this is no exception.
The Betting Limits available in Winter Gold Slot: $0.01, $0.02, $0.05, $0.10 and $0.20. Players can also bet from 1 coin up to 20 coins per line. So a great betting limit range for Winter Gold with the minimum bet being a penny and the maximum being $60.00 per spin
Some of the Symbols used in this game include: Winter Gold Logo, Gold Medal, Ski Jumping, Speed Skating, Bobsleigh and more.
The Auto play is great and has plenty of options so you're sure to find this helpful. There is a Bonus game and a jackpot as well.
Play Winter Gold Free
To play this fun and exciting Slot game you can head to Luxury Casino and get started.
Before you can play Winter Gold you will need to first do a quick download of the Casino Software. Once you download the game it super easy to access it is on your desktop so all it take is 2 clicks and you're there
Your next step is to sign up and register an account with Luxury Casino. This is a painless process and will only take you a couple minutes at the most.
Now before you jump right into playing Winter Gold, be sure to have a look and take advantage of the promotions that Luxury will give you simply just for signing up. And who doesn't love free money and this is free money you can use to play Winter Gold with.
Now you will first need to click on the games icon along the bottom of the screen which will bring you to the list of games all sorted out by what they are. You are now to select "Video Slots"
Now all of the Video Slots at Luxury Casino are listed here. You can find the game in one of two ways you can sort the slot games by how many reels they have, Winter Gold has 15 lines so click the 5 – 15 lines or it also has a bonus game to play so you can also select bonus, and then the games are sorted alphabetically so scroll until you find Winter Gold. And the second option, which is by far faster, use the search bar located in the top right of the screen and type Winter Gold in and you are ready to go.
About Winter Gold
A fun and exciting slot game that looks good, sounds great, has fantastic betting limits and a fun bonus game as well. This game is one you should for sure give a try at Luxury Casino
Betting limits for Winter Gold are pretty nice although maybe not high enough for some people but the casual slot player will enjoy them. the limits are $0.01, $0.02, $0.05, $0.10 and $0.20 and player can also wager 1-20 coins per line making the limits now $0.01 -$60.00
The Winter Gold Logo acts as the Wild Symbol for this game if you can land 5 of them on a line you're playing then you win the huge jackpot. The Wild Gold Symbol also acts as a wild symbol.
The Gold Medal Symbol is the Scatter symbol for this game. Land 3 or more on an active payline you will trigger the Bonus Game.
The Bonus game is an 8 slot wheel that has various things in each slot. From free spins and coins to events. If you land on an event you will be asked to choose who you want to be for that event (Ski Jumping, Speed Skating etc.). If the team you selected wins then you win the amount of bonus points they earned depending on where you finished
To access the Autoplay mode first click on "Expert" you can now choose 5 or 10 auto spins to go more in depth click on the Autoplay. You can now choose to auto play; 5, 10, 25, 50, 100, 250 or 500 spins in a row or you can set a dollar amount that you are willing to win or lose before stopping. The user can stop the auto spins at any time
Just a fun all around Winter Olympic themed video slot with a fun bonus game, a huge jackpot as well as a great autoplay this game is worth a play. Head to Luxury Casino, claim your free reward and enjoy.
Christmas Casino » Christmas Slots »