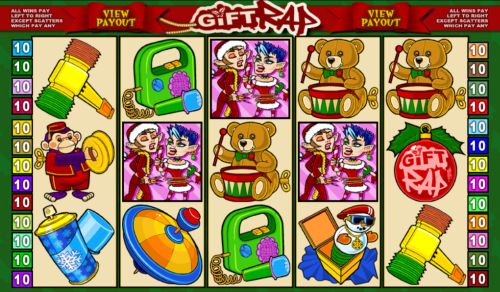 If you're looking for a different approach to Christmas themed Video Slot game then Gift Rap may be what you are looking for. You can play Gift Rap Christmas Slot at Luxury Casino.
Gift Rap is a 5 Reel, 25 Line Slot machine developed using Microgaming Software. This is a fun a different approach to Christmas game thanks to the Rap element.
You can play 1-25 line or any number of lines in between and can wager 1-10 coins per line. The betting limits are quite wide for this game; $0.01, $0.02, $0.05, $0.10, $0.20, $0.25 and $0.50. So when you break it down you can bet as little as a penny up to a maximum of $125.00. These are great limits for a lot game and will appeal to all players from Rookies to High Rollers.
This is a very straight forward game with all of the available functions listed along the bottom of the screen in big letters to avoid any confusion.
Some cool symbols in this game from Christmas things to Rapping things and they include; Rapping Elves, Monkeys, Baubles, Jack Frost, Microphone Toy Set, Drumming Bear and many more.
There is also a very in depth Auto play feature that will help players to keep playing for a predetermined amount of spins. Players can stop the Autoplay at any time.
Play Gift Rap Free
You can play Gift Rap for free by visiting Luxury Casino and downloading their Casino. The download process is quick, easy and free so players can get to slot playing as soon as possible.
After you have downloading the Casino you will now open the Casino and Register which is also free and only takes a couple minutes. Be sure to take advantage of all the amazing bonuses and promotion that you can while at Luxury Casino. They will give you a free $1000 on the first 5 deposits that you make so if you are an avid Slot player then this is an offer that you simply cannot pass up.
After registering you will be taking to the main screen of the Casino where all the games will be listed. You will need to click on Video slots which will then open up all the lots game at this Casino. Gift Rap is a 25 line slot game so you will need to select the 20+ Line option. From there all games that have 20 or more lines are listed alphabetically so scroll until you find Gift Rap and that's all there is to it.
About Gift Rap
This game is a nice take on a Christmas Themed Slot game thanks to the Rap element. There is just an amazing set of limits here that all players will surely be able to find a bet amount that they are comfortable with.
Player can bet on 1 line or up to all 25 lines and can also wager 1 coin up to 10 coins with the limits of; ; $0.01, $0.02, $0.05, $0.10, $0.20, $0.25 and $0.50. so that means you can play for as little as a penny or up to $125.00 per spin.
The Bauble symbol is the highest paying symbol in Gift Rap and if you can land 5 of them on an active line then you will win a huge jackpot. The Bauble is also a wild symbol so anytime you see this symbol it's a great thing.
If you are able to land 3 or Jack Frost Symbols you will trigger the Gift Grab bonus game. In this game you will be playing on a 5 X 6 board and you will be selecting gifts until Jack Frost tells you to stop. All of the bonuses you win will be added to you payline wins and will be multiplied by total bet amount. You can win a ridiculous amount of money during this bonus game.
The Auto Play feature is great. You can use the Auto Play feature by selecting the Expert button. Once in there you can choose to Auto Play 5, 10, 25, 50, 100, 250 or 500 spins. You can also select to stop the auto play spins if you winning amount exceeds $100, $500, $1000 or $5000. But you can also manually atop the Auto Play spins at any time.
Again this is a great option for a Christmas themed Slot game and if you are a High Roller or a more cautious player then you will be happy with the betting limits for this game. Give Gift Rap a try by heading to Luxury Casino.
Christmas Casino » Christmas Slots »