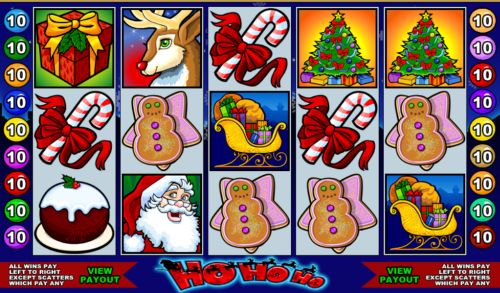 Ho Ho Ho is, as you can guess, a Christmas themed video slot that you can enjoy at Luxury Casino(Doesn't accept Americans - get $25 No Deposit for Christmas at US-Friendly Classy Coin instead.) to really put you into the Christmas spirit.
Ho Ho Ho is a 5 reel, 15 line video slot that is fun and easy to play and will really put you in the festive mood thanks to everything about this game being all about Christmas right down to the games logo itself. This game runs fast and smooth thanks to the developers being Microgaming, a software company that prides themselves on making the most flawless slots around.
There are some great betting limits for Ho Ho Ho. Players can bet $0.01, $0.02, $0.05, $0.10, $0.20, $0.25 and $0.50. Users can play 1 line or any number of lines up to fifteen and can wager any number of coins per line from 1 – 10. This is a fantastic betting range that will keep all layers happy and involved.
Some of the Christmas symbols used in this game include: Santa Claus, Presents, Rudolph, A Sleigh, Gingerbread Cookies, Egg Nog, Candy Cane and much more. If it has anything to do with Christmas then chances are it is a symbol in this game
This game features a chance at 20 free spins, a bet max button, a jackpot to be won and an auto play option.
Play Ho Ho Ho for Free
To play Ho Ho Ho for free you can visit Luxury Casino(Doesn't accept Americans - get $25 No Deposit for Christmas at US-Friendly Classy Coin instead.) where you will first download their Casino which is fast, free and incredibly easy to do.
After you have downloaded the Casino you will then need to register which is also a super easy process. But after you register be sure to look into the amazing bonuses and promotions that Luxury Casino offers. There are many so spend a couple of minutes reading through them to take advantage of all the freebies and money they will be giving away.
Now that you are registered you are ready to find Ho Ho Ho Video Slot. You landing spot after you registered is the main screen of the Casino with their games broken down into categories. You will be clicking Video Slots. From there you will be looking at the min screen of the Slot games available and you are looking for the 5-15 lines option so select it when you see it along the top of the screen. The games are now listed in order by letter so scroll to the letter H find Ho Ho Ho Ho and then you're ready to Go Go Go.
About Ho Ho Ho
Nothing will put you more in the mood for Christmas then by playing a Christmas Themed Slot game and Ho Ho Ho is a very solid option.
High Rollers wil be happy with the Odds here as will people who are as confident. Players can wager any off the following amounts; $0.01, $0.02, $0.05, $0.10, $0.20, $0.25 and $0.50. Also players can play 1-15 lines and can bet 1-10 coins per line. So you can play for as little as a penny or for as much as $75.00 per spin.
When the game is called Ho Ho Ho it should come as no surprise that the highest paying symbol is none other than Santa Claus. If you are able to hit 5 Santa's symbols on one of your active lines then you will be winning the 15,000 coin Jackpot. The Santa Symbol is also a wild symbol.
The Scatter symbol for this SLt is the Present symbol. 2, 3, 4 or 5 Scattered Present symbols will pay out 1X, 2X, 20X or 60X your total bet. By landing 3 or more scattered Present symbols you will be awarded 20 free spins where landing more presents symbols will increase your multiplier.
When you win some money on the Ho Ho Ho game you can choose to gamble your winnings. You will get to select a facedown card and have to guess if the card will be Red or Black. A correct guess will double your winnings where an incorrect one will lose it all.
Autoplay is activated by clicking on the "Expert" button. From there you can determine how many spins you would like the game to run in a row so you can just sit back and watch. You can have the game play 5, 10, 25, 50, 100, 250 or 500 autoplay spins or you can have the autoplay stop once your winnings have reached $100, $500, $1000 or $5000.
A fun and solid option for the Slot fan in the Christmas spirit. Some great betting limits make it appealing to a wide range of players. If this game sounds like something that you would like to try then head over to Luxury Casino(Doesn't accept Americans - get $25 No Deposit for Christmas at US-Friendly Classy Coin instead.)
Christmas Casino » Christmas Slots »